do not miss GG's episode on monday
"The Debarted"
On the anniversary of Bart Bass' death, Chuck (Ed Westwick) wrestles with an issue from the past and a serious car accident rocks the Upper East Side. Dan (Penn Badgley) and Vanessa (Jessica Szohr) attempt to navigate their newly complicated friendship.
When Jenny (Taylor Momsen) is accused of beating up one of her classmates, Eric (guest star Connor Paolo) is faced with a tough dilemma.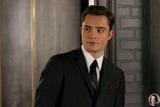 **********
promo
*********
sneak peeks