I got chance to see this episode today.
First let's remember the situation at the end of the last episode
"If..." - In the aftermath of the plane crash, the residents of Wisteria Lane reflect on what their lives might have been had they made different choices, on ABC's "Desperate Housewives," SUNDAY, JANUARY 3 (9:00-10:01 p.m., ET). Susan contemplates a life with Karl had she not left him; Bree considers life without Orson; Lynette thinks about a future with her unborn twins; Carlos reflects on how Gaby would be as an over-protective mom; and Angie ponders the consequences should her secrets be revealed.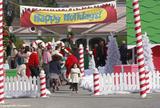 ****
Dh is always a show where you can have funny moments and tragic moments in the same episode. It happened here too
I can say
Susan
(Teri Hatcher)
brings the funny part of the
"If"
moment,
Gaby
(Eva Longoria Parker)
a bit but not very long, the first and second scenes.
Bree
(Marcia Cross)
and
Lynette
(Felicity Huffmanand
) also,
Angie
(Drea de Matteo)
, it was the tragic and emotional moments.
It's true when you ended the episode you don't know WHO survived, or what will be the future of some of the housewives now
When the episode started you can know who survived but some futures can't be so sure yet and even at the end of the episode, you still not know WHAT future it can be.
IF was a great episode.
I loved seeing
Susan
's life while she was staying with Karl
(Richard Burgi)
and see how her first meeting with
Mike
(James Denton)
happened and It was great to see Susan and Karl sharing scenes, they're funny together, I always liked their relationship 'cause of karl's behaviour lol
Gaby
brings the part where you want to say to her "let it be", let's your girl free of her life and you wish she could listen you but you can see also what daughter can do for their mom (which it can be true IF you accepted to let your mom chose your life)
Angie
's future can bring us 'clue" of what she did without really to tell us anything clearly yet, we don't know her very well but her
"IF"
moment it's something I don't wish for her.
For me the one of
Bree
and
Lynette
were the best emotionally (even if
Gaby
could be on the list too). The two scenes I loved are the two last of their
"IF"
moments.
But I also loved a moment
Lynette
shared with her new son Patrick, about a sandwich 'cause it can show how strong she can be and want him to be too.
With their
"IF"
scenes, I can say future can be changed, mistake was made but it can be fixed or at least thing can change, it's not too late.
DH ended in a way where you know, the crash will make them deal with a lot of things but also remind them, futures can be changed
IF
we want it to be.