epi 2x12 called "The Fires Of Idirsholas"
When the fires of Idirsholas burn for the first time in 300 years, Gaius fears a sorcerer has revived the deadly Knights of Medhir, in the penultimate episode of the magical family drama. Morgause has returned, hell-bent on ending Uther's reign.
Arthur and Merlin ride out to face the Knights and barely escape with their lives. Upon returning home, they find everyone in Camelot is under a strange enchantment – all except for Morgana. Could she be behind the magic which threatens the Kingdom? As Morgause and her Knights attack a helpless Camelot, Merlin's loyalties are stretched to the limit.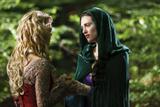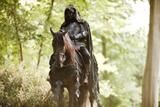 Photo are (C) BBC/Shine and were found at Merlin's Keep (
http://lhwo.hostrator.com/merlin
)
********