Something huge is going down tonight. Something scary huge.
We were on the Atlanta set of the addictive new CW series The Vampire Diaries for tonight's big Halloween episode, and here's what you need to know:
"There's actually so many surprises, and it [something] is very much a shocker to audiences," star Paul Wesley (Stefan) told us during a break on set. "It's a sort of brutal-and-violent-and-sudden-and-out-of-nowhere-something that happens, and I think people will be very shocked and confused. Blindsided I should say."
"The Halloween stuff is crazy!" Nina Dobrev (Elena) adds. "People are going to be shocked. They're going to be really surprised at how quickly and how many risks we take. We're not playing it safe."
So what goes down?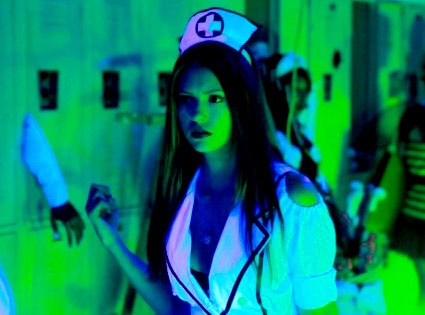 Quantrell Colbert/The CW
"Unfortunately, we can't really talk about it because there's so much going on," Ian Somerhalder (Damon) told us. Ditto that for every single castmember because it's that good. Hmph.
But we do know one of the settings for tonight's ep: "We're in the school hallway and they have this haunted house. It adds to the circumstances because there are high stakes," Paul tells us. "All this stuff is almost Bruce Lee—it's like the Bruce Lee scene in Enter the Dragon where in the mirror he keeps seeing himself." (Sweet! I'd call that pulling a Sydney Bristow, but tomato, tomahto.)
Jasmine Guy also pops up tonight as Bonnie's grandmother, and we'll see that Bonnie is more powerful than even she thought when Damon tries to take something from her. As for Vicki, she's still struggling with her whole new fangalicious self.
"Vicki's actually a vampire for Halloween, which is really fun," Kayla Ewell (Vicki) says. "That's what I love about the writing on the show; they always make fun of themselves and we have a couple references to Twilight and a couple references to True Blood and other vampire shows."
Vampire Diaries was just picked up for a full season, and Ian says they owe it all to the big boss's genius. "Kevin Williamson—he reinvented television for teens with Dawson's Creek, obviously—but he also has this ability to take a fear genre and make them so interwoven where there's quality storytelling."
We also got scoop on the hot budding romance between Elena and Stefan from the players themselves. Stay tuned for that in Monday's Spoiler Chat.
source : kristin eonline